CLAW GPS Simulator
18-channel GPS Full-Constellation Simulator
18-Channel GPS Simulation
Real Time Transcoding
Fully Self-Contained
Powered by USB or external source
Highly Accurate simulation
Wide-range RF output power control
Can store extensive dynamic simulation scenarios
The CLAW 18-Channel Full-Constellation GPS Simulator is the industry's first fully-self contained, low size-, weight-, and power (SWaP) miniature GPS Simulator module. In comparison to competitive products that require external computers for processing and control, the CLAW Simulator works fully self-contained by storing location/time/date data in internal NV memory, or by storing complex vector data to simulate highly dynamic scenarios. The CLAW can also be used to transcode NMEA or SCPI position/velocity/time (PVT) data into GPS RF signals, therefore allowing retrofitting of legacy GPS equipment with the latest generation GNSS receivers such as Glonass, Galileo, BeiDou, SAASM, M-code, or even with INS capability.
The CLAW GPS Simulator allows random scenario generation and is thus usable to simulate leapsecond events, week 1023 rollover events, or any other GPS Live-Sky scenarios. Multipath simulation will be added in late 2017 to make use of the entire 18 channel simulator capability with an easy in-field software upgrade feature. The CLAW is also very useful in GNSS receiver sensitivity testing for R&D or mass-production assembly lines as it allows very accurate control of RF output power ranging from -100dBm to less than -130dBm with 0.1dB resolution and typically better than 1.5dB accuracy over the controllable power range.
The CLAW GPS Simulator also has a built-in RF signal generator with sweep, CW, and random noise functions that is useful in simulating GNSS jamming scenarios, as well as GPS spoofing scenarios.
The CLAW GPS Simulator comes in an FCC-certified metal desktop enclosure with accessories, and has an introductory pricing of $2,995 each.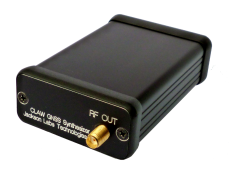 Data & Downloads